You might have missed these places while putting Aka back together after the war.
Aka is a unique game. It doesn't take place right before a fight or showdown. Aka instead tells a story about a red panda who used to be a soldier. At the beginning of the game, Aka goes to Pine Tree Island to meet up with his friend Thom and start a new life.
This game doesn't move quickly. Aka, on the other hand, is a slow, relaxing experience. Don't be surprised if you have to look for seeds for a long time. With everything moving so slowly, it might sound strange, but many hidden spots are easy to miss. This article tells you how to get to some of Aka's hardest-to-find places.
The Cave Behind The Tree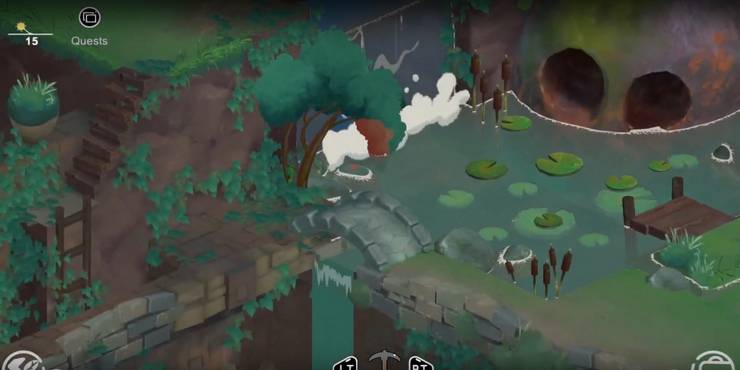 At the base of a small waterfall, there is a big stone that looks like the top of a skull. It is next to a wooden bridge and a hollowed-out log. If Aka walks through the part of the waterfall where a tree blocks his view, he can get to a secret area.
This hidden place has a large stone path that goes through water on all sides. Five waterfalls are coming down from the ceiling of this hidden room. It's still not clear what Aka is supposed to do in this hidden room, where there are no obvious treasures. Maybe this is just a hidden room with nothing in it.
The Pine Tree Island Cave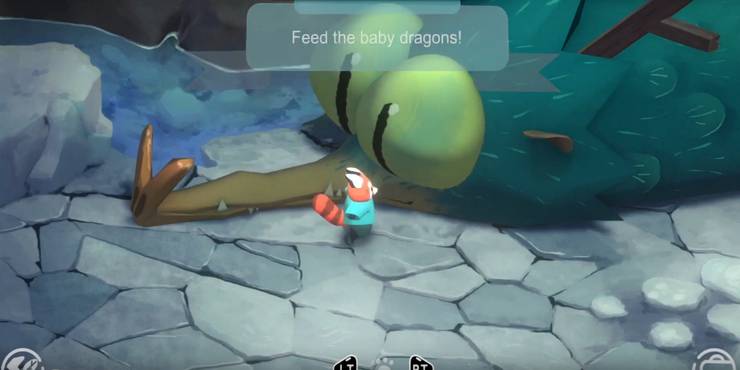 When Aka breaks some rocks at the bottom of Pine Tree Island, he goes into a cave and meets Gudrun, a dragon. Gudrun tells Aka that he came to his cave before the big war and hides where his breath keeps the island warm. Gudrun also asks Aka to feed some baby dragons whose mother has left but who are close by.
A small hidden area can be reached by swimming through the stone gates where the shy ghost appears and to the left of the dragon cave. You can stand on some rocks inside this cave. You can also pick up a block that looks like a person, while two strange creatures stand nearby and look at you.
Removing The Fence Behind Beatrix's Tree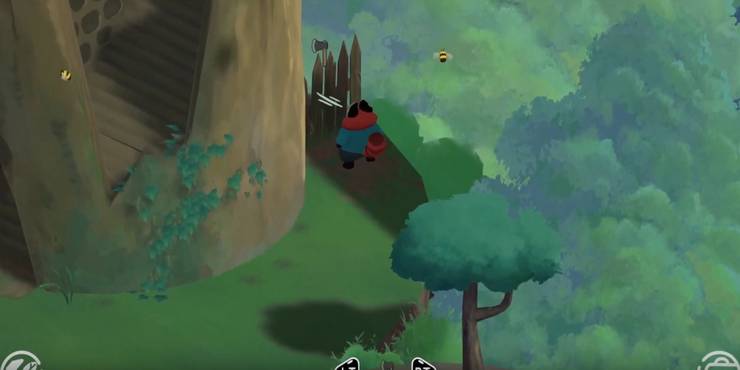 At the base of Beatrix's tree and almost around the corner, you'll find another fence that you can also take down with your axe.
Back here is a place where you can break a rock, find seeds, flowers, and a small tree that looks healthy. You can use this area to get more speed when planting.
The Hidden Path To Beatrix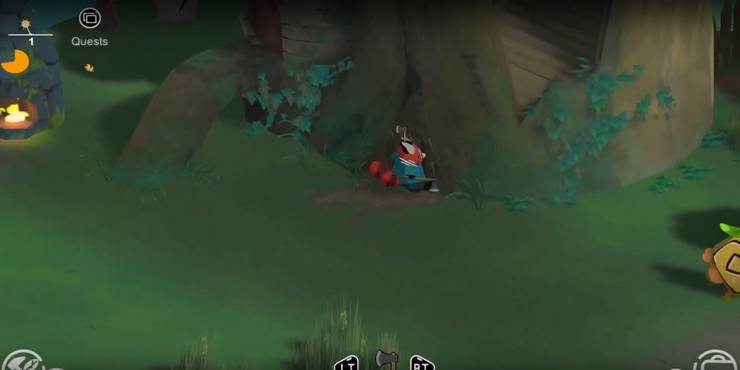 In the middle of Pine Tree Island, there is a tree with a fence around its base. Aka can go up into this tree if he uses his axe to break down the fence.
At the top of the tree, you meet Beatrix, who is the Queen Bee. She can tell that Aka has stopped fighting. Beatrix then talks with Aka about getting over hurts from the past. She then tells Aka that the war has destroyed the island's land and food and asks for his help to bring nature back. Beatrix gives Aka tulip seeds to grow if he agrees to help.
Ringing The Ghost Temple Bell
Down and to the left on Bamboo Island is a bridge that leads to a bell. It's not clear why ringing the bell lets you into the ghost temple, but it does.
After talking to Boop the Fox, who is also a Red Panda and tells you about a time when there were lots of Red Pandas on the island, Aka goes into the temple. Inside the temple, there are two rows of blue flames, a place to sit, and screens that show snow-covered trees outside. Aka can sit down inside the temple if she wants to. If you go into the building next door, you can play a flute minigame where you have to tap buttons on the controller.
The Pirate Boat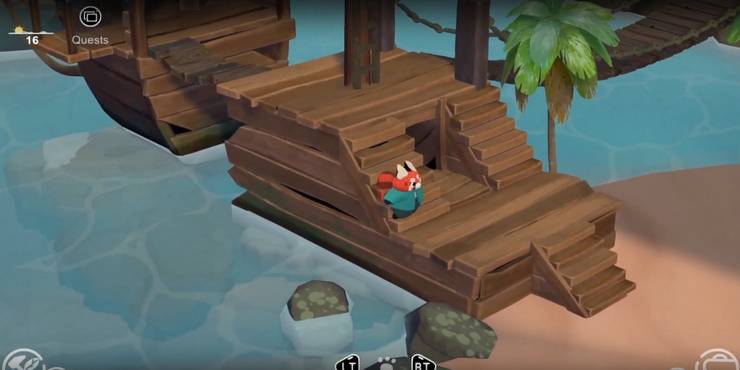 On Palm Tree Island, Aka finds what looks like pieces of a pirate boat that have been taken apart. There is a set of stairs on the part of the boat that is closest to the island. A wooden bridge is in the background to the right, and the second part of the pirate boat is behind the first part. On the boat, there is a door that is easy to miss between the second and third sets of stairs.
If Aka goes through this opening in the boat, he finds a secret room with barrels, playing cards, and a treasure chest. The chest has a key and a log inside, among other things.
Remember Your Hat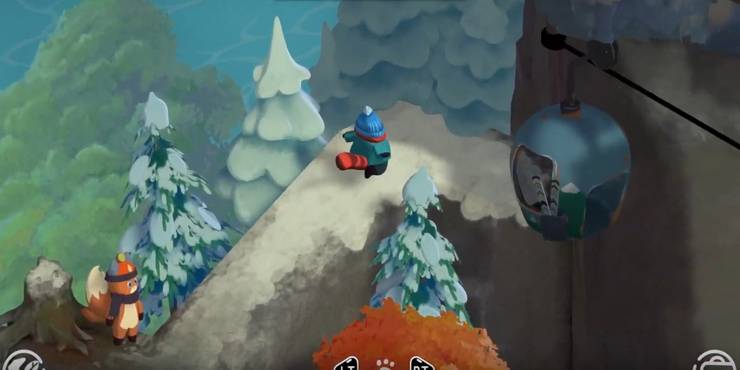 Maple Tree Island is probably the last new island you'll visit in Aka. As soon as you land there, you'll start climbing up hills to get to a ski lift. Flare tells you that you look like you don't know where you're going. If you don't have a winter hat on, you can't get to this secret place.
At the top of this mountain, you meet a snowman named Knut. He tells you that he feels like he's missing something because he used to have a nose but doesn't anymore. If you do what Knut tells you to do, Aka can give the snowman a new nose so he feels like he's back to normal.
Palm Tree Island Drum Cave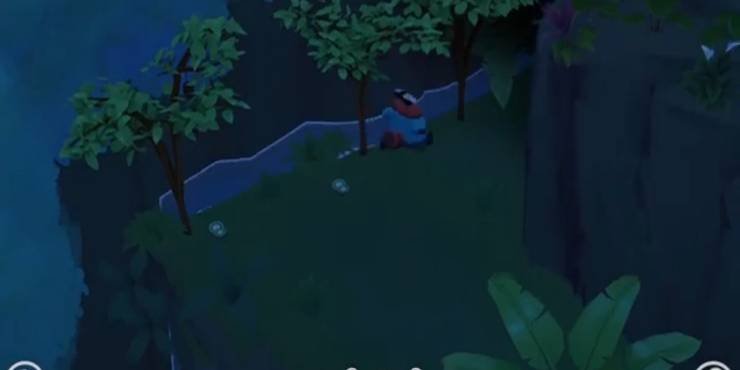 On Palm Tree Island, there is a cliff where three trees have been planted. A secret area is to the left of the path, which many players miss. To see everything, you will need to put a flashlight on a small shelf on the left side of the cave.
After you plant the torch and go into this hidden area, you can choose to play one of Aka's many quick-time musical games. This one has a drum in it. Even if you win Tunnel Rush minigame, it doesn't do anything right away.
Clearing The Garden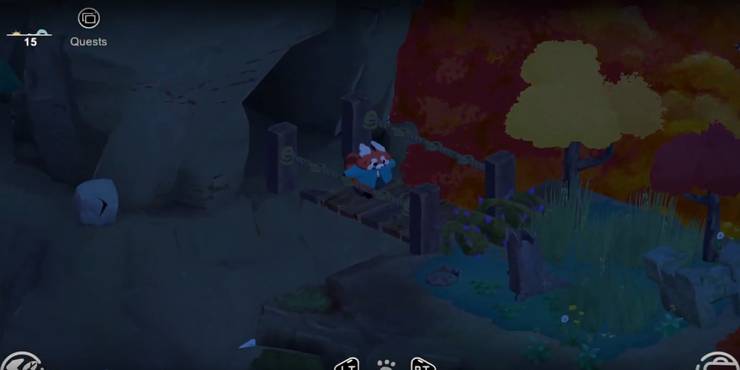 On Maple Tree Island, you can get to a small garden that is blocked by a vine by going through a hole in a cave. If you have a potion that kills brambles, you can use it to get rid of this vine so you can get into the garden.
To get the "No More Traps (Maple Island)" achievement, you'll need to find this hidden area and use your axe to clear it of all the weeds and pieces of stone.